At Glen Abbey Encore, we know that buying a new home is one of the most personal experiences you will ever go through. That's why we believe in providing you with a friendly and supportive atmosphere.
Coming into a Presentation Centre to explore a new community for the first time is exciting, but it can also be a bit overwhelming. With so many products being offered and with our six unique builders, you might not be sure where to start.
That's why all our community homebuyers are welcomed into the Presentation Centre by Amy Boren and her incredible team.
"It's my job to ensure that our clients have the best experience and are given a warm welcome when they walk into our Presentation Centre," says Amy.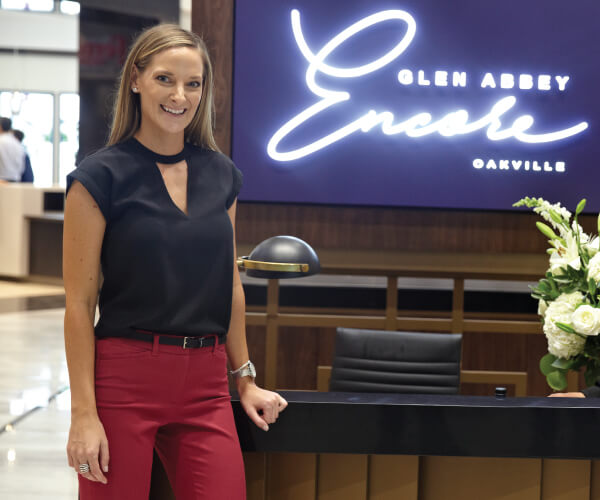 As the Director of Community Relations, it's Amy's role to inform prospective and current homebuyers about everything Glen Abbey Encore has to offer. Amy has a great sense of the overall community and can point homebuyers in the direction that makes their dreams come to life!
"Even in the few short weeks since we've opened, I've already had so many positive experiences with homebuyers. I love that I can be a part of the homebuyer's journey. Seeing huge smiles from those who have purchased a new home, makes all of the difference!"
Amy's work at Encore goes well beyond providing information; she'll also be curating homebuyer appreciation nights. "We have some really fun and interesting events planned for our homebuyers," Amy shares. "These events are a great opportunity for the homeowners to meet their neighbours and be able to see their community grow from the very start. There's also a chance for our team to show how much we appreciate their choice to call Encore home."
Amy would like current and prospective homebuyers to know that she's available to answer any questions and listen to any input they may have about Glen Abbey Encore. "Please don't hesitate to ask anything. Really, I'm here to help!"
So, the next time you visit our Glen Abbey Encore Presentation Centre, make sure to say hello to Amy. She'll be here for you every step of the way!